Those out there, who are fond of indulging in outdoor activities by wearing waterproof boots and want to keep their feet dry, would find this article interesting. Because in this article we are going to discuss How to Keep Feet Dry in Waterproof Boots.
If it is warm outside, wearing thick socks and sweating in waterproof boots is inevitable. But there are many ways to reduce sweating and fight unstoppable sweating.
So if you want to know how to keep your feet dry in waterproof boots, keep reading this informative piece of article.
Great Tips to Keep your Feet Dry in Waterproof Boots
The tips below are valuable to avoid sweating and odor and keep your feet dry and clean.
1. Select a quality pair of shoes
A sturdy pair of comfortable, breathable boots with the perfect fit is a must to keep your feet dry. To get the best results, you have to avoid synthetic materials, and your feet will thank you at the end of the day. Depending on the nature of your job, you should go for lightweight shoes as these will keep your feet cool to use with breathable socks.
2. Use of foot powder
Antifungal powders are the best options to keep your feet dry and cool in your socks and waterproof boots. They are meant to absorb sweat and contain anti-bacterial characteristics to reduce irritation.
3. Wearing socks
Wearing socks can absorb most of the sweat and reduce odor in your feet, as it is counterintuitive as it may sound. Opt for the best material according to the weather, like cotton socks in summer and wool socks for the winter is the best combo. All types of material in socks can absorb sweat, but not the thicker ones as these should be changed daily and washed regularly. 
4. Foot care with anti-bacterial soap
The best way to dry your foot is to clean your feet with warm water and anti-bacterial soap and then dry them with a towel. The medicated soaps and lotions will keep your feet odor-free and absorb your feet. You can also opt for the foot powder to keep your feet dry to avoid athletes' foot and toenail fungus. 
5. Stuff with tissue paper or waste paper
To keep your feet dry, you can use newspaper or waste paper around your feet, stuff your shoes, and leave overnight. The paper will absorb the moisture and sweat well as it is a cheaper option than buying the shoe dryer.
6. Change the stock insole
The shoes opt not to come with the insole that can keep your feet dry and fresh. So to avoid sweating in your feet, you can change the regular insole on your shoes rather than opt for something alternative. The two soles that can avoid sweating and moisture in your shoes are made with charcoal and bamboo. The insoles made with this material paired with the accurate socks will keep your feet dry and avoid sweating. 
7. Clean your work boots
To help the battle of sweating, it is better to clean your shoes regularly as your boots are tough and can be dirty many times. If there are shoe inserts in boots, clean them with mild detergent and leave them for some time to get them dried. Drying your wet shoes is important as it will remove the extra dirt and odor, which can be inevitable if you are getting sweat in your shoes.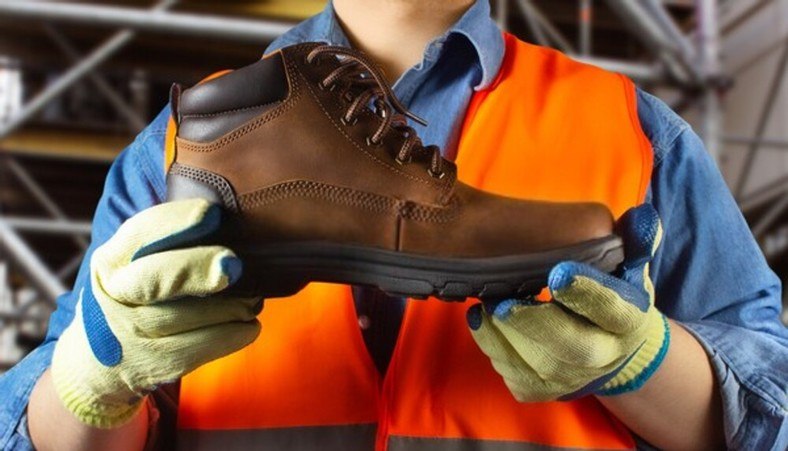 8. Use the foot deodorant
Deodorants are to be used only for your armpits, as you can use them for your feet after being washed and dried with a towel. You only have to spray the deodorant on your feet before putting on your socks. However, if your skin is prone to sensitivity, you can skip this option. Spray the deodorant on the inner of your feet and shoes to reduce the impact of sweat.
You can also spray the deodorant directly on the skin of your feet to keep your feet dry and away from sweating.
9. Wear gaiters
For keeping your feet dry, use the gaiter cover, as these are covers that will cover your ankles and lower legs. Sometimes they go on your boot laces as well. In normal conditions, the rainwater will easily go on these areas, as gaiters will help keep the water out from your boots.
They can also keep the padded areas of the ankles dried and the water away from them by absorbing the rainwater like a sponge or foam. If you opt for the gaiters to keep your feet dry, then you should look for the one that has the following features for must:
Waterproof exterior with multi-layer construction and the water-resistant membrane lining
Lace hook
Storm flap or Velcro to keep water out of the boot closure
Adjustable stirrup strap
Avoid the intense heat
It is best practice to keep your feet dry to keep your shoes away from intense heat because heat can cause your shoes to absorb the temperature and cause your shoes to shrink, leading to your feet sweating due to tightness. 
How to Choose Quality Hiking Socks
When it comes to drying your feet, you should opt for high-quality hiking socks, as they are available in two types of materials. Merino and synthetics.
Synthetics
Dry faster
Durable
More affordable
Smells terrible
Don't feel good on the skin
Non-insulating material for set conditions
Merino wool 
Comfortable in warm and cool weather
Tends to dry slowly
Not a durable material
Holds a lot of water
Put off your shoes frequently
Avoiding moisture and sweating is a must to keep your feet dry, so the easy and simple solution is to put off your boots after wearing them for hours. This will let your feet breathe in natural air and dry faster; even the best quality water-resistant boots cannot compare your feet from being wet and sweating.
Therefore, being barefooting for more than one hour a day 2 to 3 times will be best for ignoring sweat.
Causes of Feet Sweating
Hot environments
An extreme medical Issy is known as hyperhidrosis
A foot condition while sweating glands continue to work overtime
Selection of Waterproof Shoes to Keep your Feet Dry
We have done very deep research to test the best work boots to avoid sweating and keep your feet dried. The feature we explored is the best option for many challenging situations to check for excessive sweating and moisture.
So it would help if you looked for the following features in the waterproof boots to avoid sweating.
Good wicking capacities
Comfort level
Air pockets and breathability
Extra padding and cushioning
Perfect fit
Durability
Midsole and ankle support
Conclusion
so to conclude, the post on how to keep your feet dry in waterproof boots, I hope this complete guide will help you liberate yourself as it completely guides you in every aspect. Keeping your feet dry will save you from many aspects like skin allergies due to moisture and wetness. 
To fix the problem of wetting your feet, you can protect your feet from bacterial and fungal diseases. You can opt for more absorbing material in socks, repair the separating soles, put your cobbler on speed dial, put your boots well-conditioned, real waterproof your bots regularly, dry them properly after every wear, and keep them far from intense heat. 
Frequently Asked Questions
How do you keep your feet from sweating in waterproof shoes?
To keep your feet out of sweating, you can use feet powder or anti perspirant or deodorant before wearing your shoes.
Why do my feet get wet in waterproof boots?
There are two reasons for which your feet can get wet in waterproof shoes:
Design: It is hard to seal the exterior sources of the shoes for moisture.
Material: the material used in these boots are not highly reliable in being water-resistant and can easily trap perspiration.
How do I keep my feet dry in rain boots?
There are various ways to make your feet dry in rain boots. You can spray into your shoes and treat the leather and textile footwear with oil or silicone spray to make them water-resistant. 
Do feet sweat in waterproof boots?
The insulated and waterproof boots are a good option in wet terrain and cold weather, as they seal your feet, causing more sweating.
How to keep your feet dry in winter boots?
Say no to cotton socks
Go for the winter socks
Dry feet making warm feet
Try to use a sock liner
Dry your shoes during frequent wears
Layer up your feet
Invest in toe warmers
Insert thermal insoles